US Citizenship Photo Service
OPERATIONAL NOTICE:
At this time Passport Photo Place is CLOSED until further notice. We do not currently accept appointments.

US Citizenship Pictures Service (N-400), Orlando, FL
Passport Photo Place takes and processes US citizenship photos while you wait within 15 minutes. We can provide US citizenship printed photos and digital file versions taken with a high resolution camera as jpeg files specifically for Form N-400 (Application for Naturalization – USCIS).
For US citizenship N-400 photo sessions email or call our Orlando, FL Orange County photo studio at Currently CLOSED
U.S. Citizenship and Immigration Service advises to use professional legal photo studio services to avoid issues and delays associated with N-400 application processing.
Passport Photo Place is a professional legal photo studio that provides the following services:
Guaranteed photo acceptance! No N-400 application delays.
US Citizenship pictures (digital and printed) are produced per specifications provided by the U.S. Citizenship and Immigration Services, Department of Homeland Security.
Same-day photo studio service
Photos are processed while you wait. Picture sessions are available

Mon thru Fri CLOSED until further notice
Professional legal photo service
All US immigration photographs are taken by a professional photographer specializing in legal US citizenship photo documents per N400 application
Professional looking pictures!
We take photographs that look great, natural and get 100% accepted for legal US immigration documents
New digital picture technology
We utilize the latest digital printing photo technology to produce photos for US immigration documents that 100% comply with the N-400 application requirements
IMPORTANT!
Please wear a solid-colored top/shirt. White is not accepted since the background color for US Citizenship N-400 application photographs must be white.
If you wear glasses, only prescription non-tinted glasses are allowed for the photo session.
Related US document photo services
Our photo studio services for United States government are
DS-160 Online electronic Non-immigrant Visa application pictures
Other US immigration printed and electronic pictures
For express U.S. Citizenship Picture Service email or call our Orlando, FL Orange County photo studio at Currently CLOSED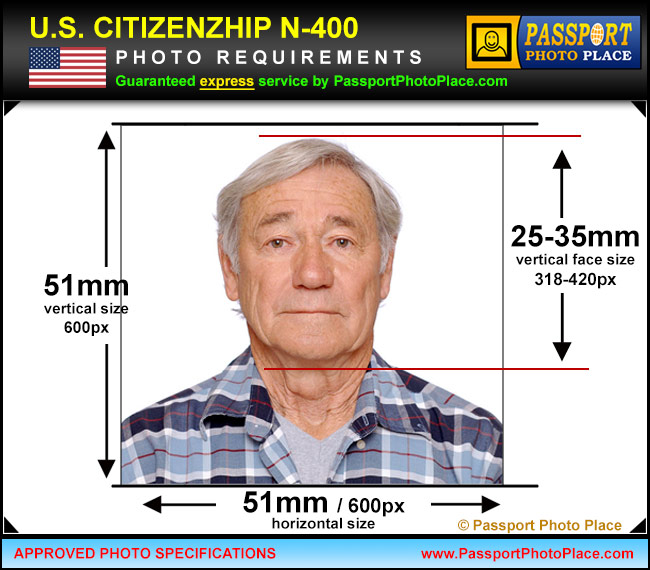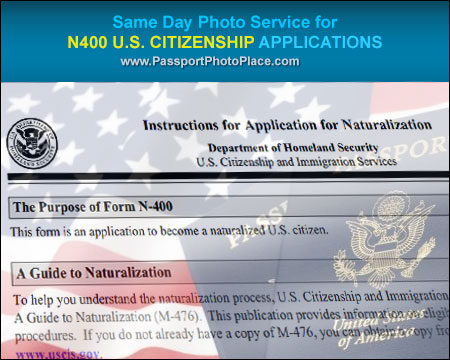 US Citizenship photo requirements (N-400 Application)
2023 Passport photo checklist
Two identical N-400 photographs must be supplied and taken within 30-day period from the time when the US Citizenship application is filed.
The photographs must have a white or slightly off-white background
The photos must show full face (frontal view)
The facial expression should be neutral with closed mouth and clearly visible facial features not obstructed by hair
No head covering of any type is accepted unless required by religious denomination which the subject is member; However, the full face must be clearly visible
The pictures must be printed in full color on a glossy high quality photo paper using a professional photo printer. Inkjet printed photos will be rejected.
Photo size must be 2″ X 2″ and be exactly cut to 51mm square picture size
Head height should measure 1 to 1 3/8 in (25 to 35mm) from top of hair to bottom of chin. The eye height is between 1 1/8in to 1 3/8in from bottom of photo
Clothing should be the same as worn regularly without the presence of emblems, service marks and any other statements otherwise
Hats and other head coverings cannot be worn unless they are a part of attire for religious purposes
No devices such as hand-free headsets must appear in photographs
Prescription glasses are acceptable as long as they do not cause glare in photos and are not tinted.
Pencil or felt pen should be used to lightly print the name of applicant and Alien Registration Number (A-Number) on the back of each photo
2023 Digital Visa pictures checklist
Electronic US Citizenship files can be accepted if printed photos are not available or digital photo files are specifically required for your N-400 application.
The digital photographs provided as files must be professionally formatted per N-400 USCIS application specifications.
The Application for Naturalization photo image must follow the requirements as outlined below:
Photo dimensions
The image must have a 1:1 aspect ratio with minimum size of 600×600 pixels and maximum dimensions of 1200×1200 pixels.
Picture color
The picture must be in full color and encoded in 8-bits per color channel to result in 24 bits per pixel color space. sRGB color space encoding is required.
Photo file format
The digital file format must be JPEG and compressed to produce a file size anywhere from 100kb and 240kb. Pictures compressed to produce file sizes below 100kb may not pass naturalization application verification process.
Digital photo submission
Digital files must be submitted with electronic application online in the original form as provided by a professional legal photo studio. Photos cannot be adjusted, cropped or altered in any way.
Naturalization application photographs for N-400 US Citizenship application must be taken within 30 days of application submission. If any significant variations in appearance of the applicant are present at the time of application submission, the photos must be re-taken to avoid delays in processing of N400 Naturalization application.
Passport Photo Place accesibility and service area
Our Orlando, FL Orange County photo studio is accessible via major routes and in relatively close proximity from the following cities: Aloma, Altamonte Springs FL, Apopka FL, Apopka, Azalea Park, Belle Isle, Bithlo, Buena Ventura Lakes, Cambell, Casselberry, Casselbery, Celebration Florida, Celebration, Christmas FL, Christmas, Chuluota, Clermont, Cloud FL, Cocoa Beach, Cocoa FL, Cocoa, Conway, Davenport, Doctor Phillips, Eatonville, Edgewood, Fairview Shores, Fairvilla, Fern Park, Forest City, Goldenrod, Gotha, Hiawassee, Holden Heights FL, Hunters Creek, Kissimmee, Lake Buena Vista, Lake Butler, Lakeland, Lockhard, Lockhart, Longwood FL, Maitland, Meadow Woods, Merritt Island and Cocoa Beach, Mims, Narcoossee, Oak Ridge FL, Oakland, Ocoee, Orlando FL, Orlando Florida, Orlando International Airport, Orlando, Orlo vista, Orlovista, Oviedo Florida, Oviedo, Paradise Heights FL, Pine Castle, Pine Hills, Port Saint John, Rosemont FL, Sanford, Sky Lake, South Apopka, St. Cloud, Tildenville, Titusville FL, Titusville, Union Park, University Park FL, Windermere FL, Windermere, Winter Garden FL, Winter Park and Winter Springs.
To schedule an appointment for USCIS US Citizenship photo service email or call our Orlando, FL Orange County photo studio at Currently CLOSED