Australian Passport Photo Service
Guaranteed same-day Australian passport photography service
OPERATIONAL NOTICE:
At this time Passport Photo Place is CLOSED until further notice. We do not currently accept appointments.

2023 Australian Passport Photo Services - Orlando, FL
Passport Photo Place specializes in producing Australian passport photographs. We take and digitally print passport pictures per specifications provided by Australian Government Passport Office. The Department of Foreign Affairs and Trade provides highly specific requirements that must be followed in order to properly submit a passport application.
To book an appointment for Australian passport photographs email or call our Orlando, FL Orange County photo studio at Currently CLOSED
Australian Passport Office accepts printed versions of photographs. The Embassy of Australia requires applicants to utilize services of a professional photographer to avoid delays associated with passport applications, which may result in rejections of submitted photographs.
Passport Photo Place captures and provides printing of the Australian passport pictures that are 100% compliant with Australian Passport Office requirements. This helps to ensure that passport application process continues without any unexpected delays.
Our photo studio is located in Orlando, FL and provides professional Australian passport photo service.
Guaranteed Australian passport picture service. No Rejects!
Note that embassy of Australia states – "Approximately 90% of the photographs we receive are not acceptable". At Passport Photo Place, we strictly and carefully follow all current 2023 Embassy of Australia photo requirements for applicants currently residing in the United States.
Same-day service
Our passport photo services features immediate photo processing and all photographs are taken, printed within 15 minutes and instantly provided to a customer. Appointments for Australian passport photo are scheduled

Mon thru Fri CLOSED until further notice
Professional passport picture service
All passport photography is provided by a professional photographer that specializes in legal document photography.
Great looking pictures!
Passport Photo Place not only provides fully compliant pictures, but takes and prints photographs that look professional
Latest document photo technology
We utilize the most updated photo capture and printing technology to reliably deliver the photo quality and photo longevity requirements to ensure that photographs meet and exceed the specifications of Consulate General of Australia.
Real photo studio, and local!
All Australian passport photos are produced locally and quickly at our studio in Orlando, FL. The pictures are available instantly for pick up.
For Australian passport photo appointments email or call our Orlando, FL Orange County photo studio at Currently CLOSED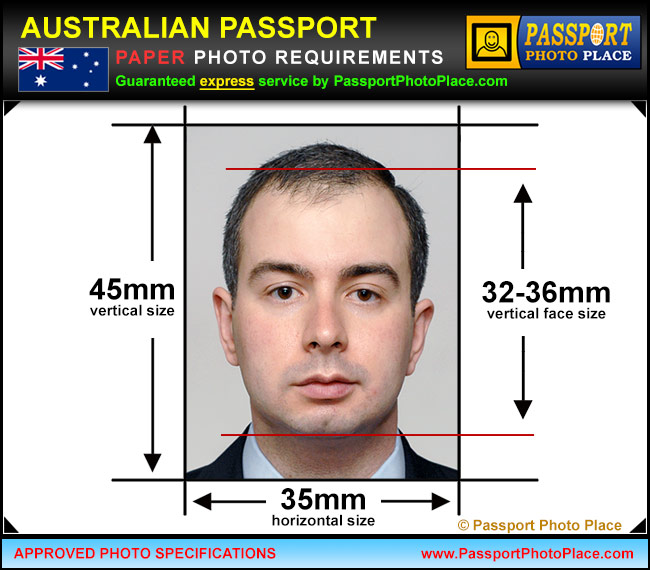 2023 Australian Passport Photo Guidelines
Australian passport applications require individuals to submit commercially produced photographs that conform to the following:
Photo specifications & background
Photos must be recent and precisely represent the current applicant's appearance
The studio lighting must allow for shadow free lighting on the face and background.
Passport prints must be 35x45mm (3.5cm by 4.5cm) and show frontal, full face view of the subject
The face dimensions must be from 32mm to 36mm from chin to crown
The background must be white or light grey, with no shadows and sufficient contrast between the subject's face, body, clothing and background
Applicant appearance
Eyes open
Mouth closed
Neutral facial expression. Smiles or other than neutral expressions will disqualify an application
Subject must be centered
Ears and forehead must be visible
Hair must not cover any part of the face
Head covering or scarfs should be removed, unless used for religious purposes.
Only prescription glasses are allowed, however, the glasses must be thin framed and cannot obscure any part of the face. The resulting photographs must be free of reflection from the glass and only un-tinted glasses are permitted
Facial piercings, nose rings, nose studs are not allowed unless they're permanently worn. In this case they must not cause reflection
Infant photography is a little bit more forgiving and open mouth will be accepted. However, the eyes must be open and no other people or objects in the frame can appear
Photo capture, printing & processing specifications
Photos must be taken with focal length of 90-130mm (35mm film equivalent) lens and low noise film/digital camera. Distance from subject to camera must be a minimum of 1.2 meters to avoid focal distortion
Australian passport pictures are expected to be printed at 300dpi (200 gsm) or higher resolution using an industrial, continuous tone photo printer. If inkjet printer is used, it must be an industrial grade equipment using drylab photography standard gloss paper. Color laser printers are not allowed
Thermal papers must not have heavy backing. Thin photo paper stocks only
The photographs must be in full color
The picture paper is required to be semi-gloss
Final image must be an exact and true likeness of the applicant. Retouching or editing of photographs is not allowed. Only brightness and contrast can be adjusted if retaking a properly exposed photo is not an option
Moles, wrinkles and scars must not be removed. Red eye defects cannot be removed by editing. A properly re-taken photo is required in the case of red-eye photo defects.
IMPORTANT PASSPORT PHOTO STUDIO APPOINTMENT NOTES
Please wear a solid-colored top/shirt. White or slightly off-white tops are not accepted since the background for Australian passport pictures is white or slightly off-white and there must be a well defined contrast between the subject and the background.
Passport Photo Place accesibility for Australian passport picture service
Our Orlando, FL Orange County legal photo studio is accessible via major roads and is in relatively close proximity from the following: Aloma, Altamonte Springs FL, Apopka FL, Apopka, Azalea Park, Belle Isle, Bithlo, Buena Ventura Lakes, Cambell, Casselberry, Casselbery, Celebration Florida, Celebration, Christmas FL, Christmas, Chuluota, Clermont, Cloud FL, Cocoa Beach, Cocoa FL, Cocoa, Conway, Davenport, Doctor Phillips, Eatonville, Edgewood, Fairview Shores, Fairvilla, Fern Park, Forest City, Goldenrod, Gotha, Hiawassee, Holden Heights FL, Hunters Creek, Kissimmee, Lake Buena Vista, Lake Butler, Lakeland, Lockhard, Lockhart, Longwood FL, Maitland, Meadow Woods, Merritt Island and Cocoa Beach, Mims, Narcoossee, Oak Ridge FL, Oakland, Ocoee, Orlando FL, Orlando Florida, Orlando International Airport, Orlando, Orlo vista, Orlovista, Oviedo Florida, Oviedo, Paradise Heights FL, Pine Castle, Pine Hills, Port Saint John, Rosemont FL, Sanford, Sky Lake, South Apopka, St. Cloud, Tildenville, Titusville FL, Titusville, Union Park, University Park FL, Windermere FL, Windermere, Winter Garden FL, Winter Park and Winter Springs.
To schedule an appointment for Australian passport photo session email or call our Orlando, FL Orange County photo studio at Currently CLOSED