Canadian permanent resident PR photo service
Same-day guaranteed CA PR photo and picture printing service
OPERATIONAL NOTICE:
At this time Passport Photo Place is CLOSED until further notice. We do not currently accept appointments.

2023 Canadian PR Permanent Residents Card Photo Service - Orlando, FL
At Passport Photo Place, we provide same day photo service for Canadian Permanent Residents (PR Card) applications. The Canada PR photos we produce comply to the Government of Canada requirements as specified by current Embassy of Canada rules.
To book an appointment for Canadian PR Permanent Residents photo session email or call our Orlando, FL Orange County photo studio at Currently CLOSED
The photographs taken for Canadian PR documents must be provided as printed version. Electronic files are optional and currently not required.
Canadian Consulate requires the photographs taken by a commercial photographer that specializes in professional document photography. Photos from photographers that are not approved for document pictures can be rejected, causing lengthy delays in processing of Canada PR applications. Photo rejections are the most common cause of delayed processing of the resident applications.
Passport Photo Place provides rapid service and produces Canadian PR card pictures that are 100% compliant with the Embassy of Canada and applicable Canadian Consulate(s). Following the strict requirements provided by the Canadian Consulate ensures that all PR card applications are approved on a timely basis.
Our Orlando, FL legal document picture studio provides professional Canadian PR photo service:
Guaranteed Canadian PR photo service. No Rejects!
All Canadian permanent residence photographs are taken and printed following the most recent and updated requirements as provided by the Canadian Consulate. Digital photos are also available.
Express same-day PR photo service
The photographs are produced and provided to a customer at the time of a photo session within 15 minutes minutes.
Appointments for Canada PR pictures are booked

Mon thru Fri CLOSED until further notice
Pro CA PR photo service
All photos produced in our studio by a professional photographer that specializes in legal PR document photography and all other travel and immigration documents.
High quality pictures!
Passport Photo Place makes photographs that look great and naturally represent each person.
New PR photo document technology
Our studio utilizes the latest in digital document photo technology that consistently produces accurate high quality pictures that are accepted at worldwide locations of Consulate General of Canada.
Local photo studio service!
All Canadian PR photos are taken and printed immediately at Passport Photo Place in Orlando, FL and instantly delivered to the customers. No need to come back for pictures!
Related photo services
Our photo studio services for Canadian government are
To schedule an appointment for Canadian Permanent Residents PR photos email or call our Orlando, FL Orange County photo studio at Currently CLOSED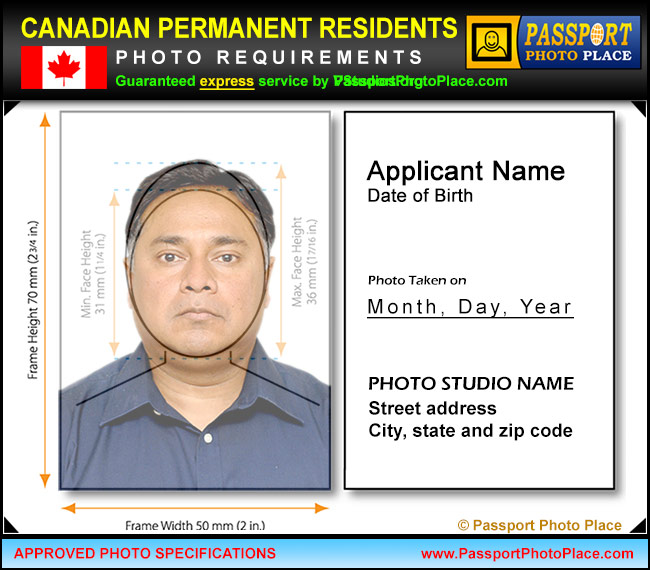 2023 Canada PR Card Photo Requirements
Canadian PR (Permanent resident) application requires to submit professionally produced photographs that comply to the following CA Embassy regulations:
Photo requirements & background
Photos must not be older than 6 months prior to submitting an application
Pictures must be taken by a commercial photographer, correctly lit by studio lighting and exposed.
Number of photos required is specified on the application guide.
Application requires 50x70mm (5cm by 7cm) pictures that are taken straight on, with shoulders and face centered and in parallel to the camera
The face size must be between 31 mm
and 36 mm (1 1/4 inches to 1 7/16 inches) from chin to natural top of the head (crown)
The background must be white with no shadows and with proper contrast to between background, hair, skin and clothing.
Applicant appearance
The skin tones must be natural and precisely reflect individual's skin tone.
The facial expression must be neutral, with eyes open and eye brows clearly visible. Mouth must be closed. Smiling is not allowed
The ears and entire forehead must be clearly visible
Hats and hair accessories must be taken off unless worn for religious purpose only
Non-tinted glasses are allowed ONLY if worn for medical reasons
The clothing worn must be of the same type as worn on a daily basis. Emblems, logos and uniforms should not be worn for taken the photographs
Photo printing & processing specifications
Canadian permanent residence photographs must be printed at 300dpi or higher resolution using a professional photo printer. Inkjet printers are not acceptable for producing legal document photographs.
The photographs can be either be in full color or black & white
The picture paper must be matte or slightly glossy
Photos must be in its original form as photographed and not altered in any way. Reproduction of existing photos is not allowed
The back of ONE (1) photograph must have the following:
– Name and date of birth (DOB) of the applicant
– Full name and address of professional photo studio that took the photograph(s)
– Date when the photo was taken and printed
– The above information must be either directly printed on the CA PR pictures or handwritten. Stick-on labeling are not allowed and the photos will be rejected if any adhesive labels are used
IMPORTANT CA PR PICTURES APPOINTMENT NOTES
Please wear a solid-colored top/shirt. White or slightly off-white tops are not recommended since the background for Canadian PR photographs is white and there must be a defined contrast between clothing, subject and the background.
Eye wear (unless untinted and by prescription only) and contact lens must be removed prior to taking a photo
Passport Photo Place accesibility for CA PR Card picture service
Our Orlando, FL Orange County photo studio is accessible via major routes and in relatively close proximity from the following locations: Aloma, Altamonte Springs FL, Apopka FL, Apopka, Azalea Park, Belle Isle, Bithlo, Buena Ventura Lakes, Cambell, Casselberry, Casselbery, Celebration Florida, Celebration, Christmas FL, Christmas, Chuluota, Clermont, Cloud FL, Cocoa Beach, Cocoa FL, Cocoa, Conway, Davenport, Doctor Phillips, Eatonville, Edgewood, Fairview Shores, Fairvilla, Fern Park, Forest City, Goldenrod, Gotha, Hiawassee, Holden Heights FL, Hunters Creek, Kissimmee, Lake Buena Vista, Lake Butler, Lakeland, Lockhard, Lockhart, Longwood FL, Maitland, Meadow Woods, Merritt Island and Cocoa Beach, Mims, Narcoossee, Oak Ridge FL, Oakland, Ocoee, Orlando FL, Orlando Florida, Orlando International Airport, Orlando, Orlo vista, Orlovista, Oviedo Florida, Oviedo, Paradise Heights FL, Pine Castle, Pine Hills, Port Saint John, Rosemont FL, Sanford, Sky Lake, South Apopka, St. Cloud, Tildenville, Titusville FL, Titusville, Union Park, University Park FL, Windermere FL, Windermere, Winter Garden FL, Winter Park and Winter Springs.
For Canadian PR card picture service email or call our Orlando, FL Orange County photo studio at Currently CLOSED