Greek Passport Photo & Visa Picture Service
Same day Greece passport and visa photography studio service
OPERATIONAL NOTICE:
At this time Passport Photo Place is CLOSED until further notice. We do not currently accept appointments.

2023 Greek Passport & Visa Picture Photo Studio Service, Orlando, FL
At Passport Photo Place, we take and print properly formatted and guaranteed to be accepted Greek passport and visa photographs within a 15 minutes appointment time. Greece passport photos are provided as printed version and are available as an electronic version if required.
To book an appointment for Greek passport and visa photo sessions email or call our Orlando, FL Orange County photo studio at Currently CLOSED
Greek Consulate General in Tampa advises to use a professional photography studio that specializes in photo studio services for legal travel and immigration applications. This helps to ensure that there are no delays in processing of Greece passport and visa applications and that all applications are approved within the normal processing time.
Passport Photo Place provides professional Greek passport photo services that feature the following:
Guaranteed passport & visa photo service. No Rejects!
All Greece passport and visa photographs are taken and printed by the exact and updated requirements as provided by the Consulate General of Greece in Tampa, Florida.
Express same-day picture service
Photos are taken and printed at appointment time. No need to come back for photographs. Greek visa and passport photo appointments are available

Mon thru Fri CLOSED until further notice
Professional Greek visa and passport photo service
All photographs are taken in professional photo studio by a professional legal photographer that specializes in passport and visa photography for travel and immigration documents.
Great looking pictures!
Passport Photo Place takes professional and great looking photographs that naturally reflect a subject's appearance.
New digital document picture technology
We use the latest and updated image acquisition and photo printing technology that allows us to produce passport and visa photos for Consulate General of Greece that comply to the official requirements 100%.
For same day Greek passport and visa photo service email or call our Orlando, FL Orange County photo studio at Currently CLOSED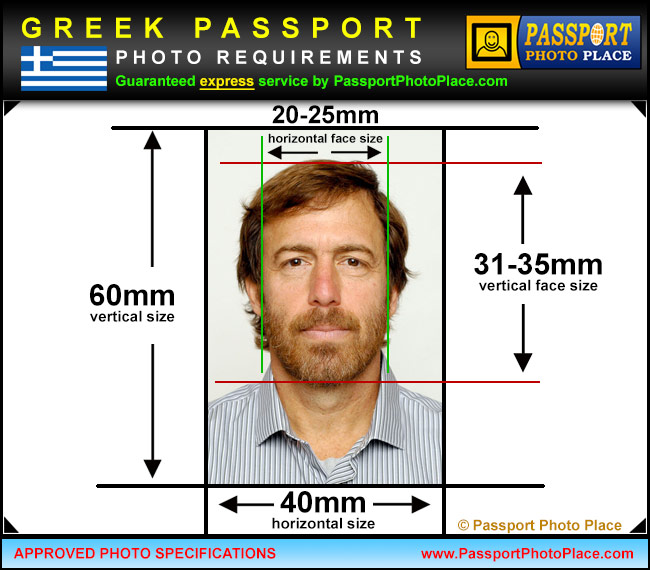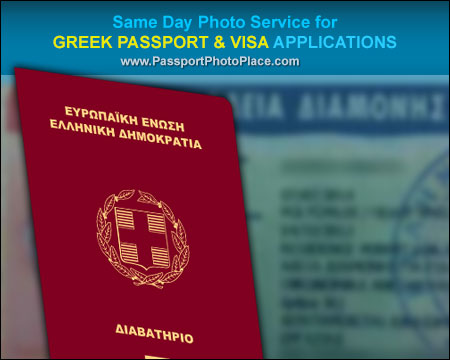 IMPORTANT PHOTO APPOINTMENT NOTES!
Please wear a solid-colored top/shirt. White or slightly off-white tops are not accepted since the background for Greek passport photos is white and there must be a good contrast between clothing and the background.
If glasses must be worn, only prescription and non-tinted glasses are allowed.
Greece Consulate Requirements and Specifications for Passport and Visa Photographs
2023 Greek passport - photographer checklist
Passport photo application requires you to submit one (1) current photo that is not older than 6 months.
The background must be white, cream or 5% gray and should be selected depending on the subject. This is required to clearly document the facial characteristic without background interference
The person must be looking straight at the lens and the entire face should be clearly visible without any obstructions, including unwanted hair over face
The facial expression must be neutral and the mouth must be closed
Eyes must appear naturally open and not being intentionally wide open
Head coverings are not accepted unless it's worn for religious purposes. In this case, the face must be completely exposed from jaw line to top of the head and from one ear to another
The hair must not cover any part of facial features, including eyebrows, and more than 60% of forehead
Clothing should be the same as worn on a daily basis but be in good contrast with a white or off-white background
No devices obscuring any part of the face can be worn
Babies and children under 12 years old
The face of babies and children can be logically smaller than those of adults
The expression should remain neutral and mouth is closed if possible. However, very slight variations from the adult Greek passport photo requirements are acceptable
A child should appear in the photos without chairs, toys or parent's hands visible
All other Greek passport and visa photo requirements are the same as for the adults
2023 Greek passport photo - technical specifications
The pictures must be printed on a high quality matte or slightly glossy photographic paper that is not watercolored or textured
The printing should exhibit any type of pixelation such as that produced by inkjet printers. Inkjet printing is not acceptable for Greek passports or visa documents
The photograph dimensions must be 40mm by 60mm without a border or a frame and from edge to edge
The photograph print must be professionally cut and have smooth edges
The face length from jaw up to the top of the head should be anywhere between 31mm and 35mm
The face width from one ear to the other (at the connection point to the head) should be from 20mm to 25mm
The distance from the bottom edge of the photo to subject eyes should be between 30mm and 39mm
Photos must not be edited in any way that alters or distorts the subject's appearance
Cameras that have low quality or wide angle lens cannot be used to take Greek passport or Greek visa photographs since this type of equipment distorts the appearance of a subject
The face must be evenly exposed with natural skin tone representation and no nose or ear shadows
Background shadows are not acceptable
If prescription glasses are worn, care should be taken to avoid any glare or distortion of the eyes
Underexposed photographs should be retaken rather than modified in software to compensate for photo exposure
Photos must be taken with a properly adjusted white balance that does not introduce any photo tinting or produces natural skin discoloration or hue artifacts
Examples of reasons for which Greek passport photos might be rejected: Closed eyes, eyes covered by hair, eyes partially obscured by glasses, other than neutral facial expressions, eyebrows rise, subject not looking into the camera, squinting or frowning, background shadows or other than specified background color and unequally exposed photograph, photographs that are older than 6 months.
Passport Photo Place accesibility and Greek passport photo service area
Our Orlando, FL Orange County photo studio is accessible via major routes and in relatively close proximity from the following cities: Aloma, Altamonte Springs FL, Apopka FL, Apopka, Azalea Park, Belle Isle, Bithlo, Buena Ventura Lakes, Cambell, Casselberry, Casselbery, Celebration Florida, Celebration, Christmas FL, Christmas, Chuluota, Clermont, Cloud FL, Cocoa Beach, Cocoa FL, Cocoa, Conway, Davenport, Doctor Phillips, Eatonville, Edgewood, Fairview Shores, Fairvilla, Fern Park, Forest City, Goldenrod, Gotha, Hiawassee, Holden Heights FL, Hunters Creek, Kissimmee, Lake Buena Vista, Lake Butler, Lakeland, Lockhard, Lockhart, Longwood FL, Maitland, Meadow Woods, Merritt Island and Cocoa Beach, Mims, Narcoossee, Oak Ridge FL, Oakland, Ocoee, Orlando FL, Orlando Florida, Orlando International Airport, Orlando, Orlo vista, Orlovista, Oviedo Florida, Oviedo, Paradise Heights FL, Pine Castle, Pine Hills, Port Saint John, Rosemont FL, Sanford, Sky Lake, South Apopka, St. Cloud, Tildenville, Titusville FL, Titusville, Union Park, University Park FL, Windermere FL, Windermere, Winter Garden FL, Winter Park and Winter Springs.
To schedule an appointment for Greece passport/visa picture service email or call our Orlando, FL Orange County photo studio at Currently CLOSED