New Zealand Passport Photo Service
Same day and guaranteed New Zealand passport picture service
OPERATIONAL NOTICE:
At this time Passport Photo Place is CLOSED until further notice. We do not currently accept appointments.

2023 New Zealand Passport Picture Service - Orlando, FL
Passport Photo Place is the preferred New Zealand passport photo service provider in the Greater Orlando, FL area. We take, format and deliver digital passport files and prints as required by the official passport photo specifications for New Zealand Embassies and Consulates.
To book an appointment for New Zealand passport pictures email or call our Orlando, FL Orange County photo studio at Currently CLOSED
New Zealand has two application options – paper applications and online applications, therefore depending on the application type, we can either print or provide an electronic version of passport photo file.
The Department of Internal Affairs (Te Tari Taiwhenua) of New Zealand strongly advises to obtain passport photo photographs at a professional photo studio to avoid rejected applications and lengthy application processing delays.
Passport Photo Place takes and prints New Zealand passport pictures that fully comply to the official government specifications by the Department of Internal Affairs.
Our Orlando, FL passport photo studio provides professional New Zealand passport picture services that feature the following:
Guaranteed New Zealand passport photograph service. No Rejects!
All NZ passport pictures are taken and printed by the strict and recent specifications as provided by the Department of Internal Affairs.
Same-day passport photo service
At our studio, passport photos are taken, formatted and printed within 15 minutes and provided to customers immediately. Appointments are scheduled

Mon thru Fri CLOSED until further notice
Professional photo service
All legal document photographs are captured and produced by a professional photographer that specializes in legal passport photography for immigration and travel documentation.
High quality and great looking pictures!
Passport Photo Place makes professional and great looking photographs that naturally and precisely represent the passport document applicants.
Progressive document photo technology
We utilized the most advanced photo capture, digital processing and printing equipment to produce outstanding results and guarantee passport photo acceptance by the The Department of Internal Affairs, New Zealand.
All done locally!
Passport Photo Place is located in Orlando, FL and all services are rendered on premises. All pictures, digital or printed, are instantly available for customer pick up.
For same-day New Zealand passport photo appointments email or call our Orlando, FL Orange County photo studio at Currently CLOSED


Online Application Photo Specifications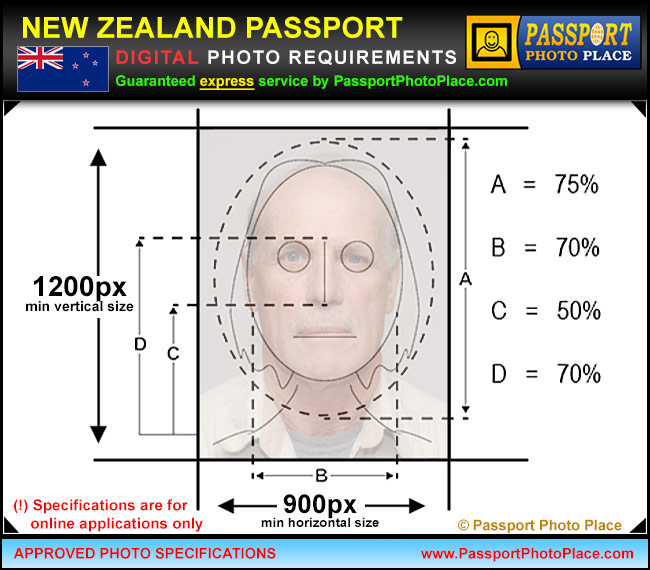 Paper Application Photo Specifications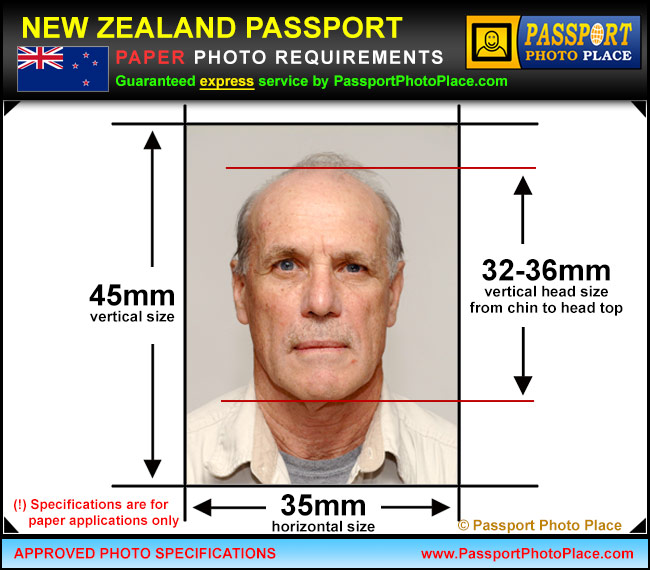 2023 New Zealand Passport Photograph Requirements
Both NZ ONLINE and PAPER passport applications require submitting professionally taken photographs that fully comply to the official requirements.
Photos must be less than 6 months old at the time of the application
Only full color photographs are accepted. Black and white photos are no longer acceptable.
Pictures must be correctly focused, lit and exposed. Any variations from the proper focusing, lighting and exposure are not accepted
Photographs must not be altered in any way
The skin tones must be naturally represented without alterations in color
ONLINE passport applications photo guidelines
Accepted file types: JPG or JPEG
File size: >500kb and <10MB
Picture size: 900x1200px minimum and 4500x6000px maximum
The overall vertical head size must be 75% of the entire photo area
The distance between the ears base must be 70% of the horizontal size of the photograph
Aspect ratio: 3:4 in portrait position and 4:3 in landscape orientation. Note that digital pictures must be oriented to portrait position once rendered to a file
PAPER application photo guidelines
Passport photo application requires Two identical 35x45mm (3.5cm by 4.5cm) photos that show front view, full face of the person
The head size must be between 32mm and 36mm from chin to head top and minimum 32mm from chin to crown
Background requirements
The background must be off-white or lightly colored with no shadows and with proper contrast to between background and the subject. Pictures with white background will be rejected.
Applicant appearance
Straight-on full frontal face view
Neutral expression. Avoid smiling or frowning
No facial obstruction with hair or any accessories
Hair must fully appear in the frame
Only prescription glasses are allowed and only with thin frame. Any other type of glasses will result in pictures being rejected
Head covering and headbands are not allowed unless they're worn for religious or medical reasons
Photo printing & processing specifications
The photo paper must be high quality and printing quality above 300dpi. The paper coating must have a slight gloss. Inkjet printing is not acceptable for producing a document photographs.
The photographs must be in full color
Retouching or adjustments of photos that alters an person appearance is not acceptable
IMPORTANT PASSPORT PICTURE APPOINTMENT NOTES
Please wear a solid-colored top/shirt. White or slightly off-white tops are not allowed since the background for New Zealand passport pictures is off-white or lightly colored and there must be a strongly defined contrast between subject and the background.
Passport Photo Place accesibility for NZ passport picture service
Our Orlando, FL Orange County legal photo studio is accessible via major roads and is in relatively close proximity from the following cities: Aloma, Altamonte Springs FL, Apopka FL, Apopka, Azalea Park, Belle Isle, Bithlo, Buena Ventura Lakes, Cambell, Casselberry, Casselbery, Celebration Florida, Celebration, Christmas FL, Christmas, Chuluota, Clermont, Cloud FL, Cocoa Beach, Cocoa FL, Cocoa, Conway, Davenport, Doctor Phillips, Eatonville, Edgewood, Fairview Shores, Fairvilla, Fern Park, Forest City, Goldenrod, Gotha, Hiawassee, Holden Heights FL, Hunters Creek, Kissimmee, Lake Buena Vista, Lake Butler, Lakeland, Lockhard, Lockhart, Longwood FL, Maitland, Meadow Woods, Merritt Island and Cocoa Beach, Mims, Narcoossee, Oak Ridge FL, Oakland, Ocoee, Orlando FL, Orlando Florida, Orlando International Airport, Orlando, Orlo vista, Orlovista, Oviedo Florida, Oviedo, Paradise Heights FL, Pine Castle, Pine Hills, Port Saint John, Rosemont FL, Sanford, Sky Lake, South Apopka, St. Cloud, Tildenville, Titusville FL, Titusville, Union Park, University Park FL, Windermere FL, Windermere, Winter Garden FL, Winter Park and Winter Springs.
To book an appointment for New Zealand passport photo service email or call our Orlando, FL Orange County photo studio at Currently CLOSED