Canadian Visa Photo Services
Guaranteed Canadian visa photo service – express photo services by Passport Photo Place
OPERATIONAL NOTICE:
At this time Passport Photo Place is CLOSED until further notice. We do not currently accept appointments.

2023 Visa Picture Service for Canada - Orlando, FL
Passport Photo Place provides rush service for Canada temporary visas for both printed and electronic photo formats. We take and print all types of Canadian visa pictures that comply to the exact picture requirements as provided by Canadian government. There are three types of temporary resident visas – single-entry visa, multiple-entry visa and transit visa.
To book a photo session for Canadian visa picture service email or call our Orlando, FL Orange County photo studio at Currently CLOSED.
Canadian Consulate General advises to utilize only a professional legal passport photo studio to avoid lengthy delays and visa application rejections.
Passport Photo Place provides visa picture services that are in complete compliance with the official Canadian Embassy requirements. Taking the proper pictures in the first place facilitates normal application processing times and approval of the Canadian temporary visa applications.
Our legal photo studio offers professional Canadian visa photograph services that feature digital image files for uploading with online Canadian visa applications and printed pictures.
Guaranteed Canadian visa photo service. No picture rejections!
All Canadian visa photographs are produced following the exact and recently updated 2023 photo requirements as established by the Embassy of Canada.
Same-day rush photo service
All visa pictures are taken and immediately printed at the photo session time within 15 minutes. Appointments for visa photographs can be scheduled on the same day

Mon thru Fri CLOSED until further notice
Pro photo service
The visa photographs are taken and printed by a professional photographer on-site. The photographer exclusively specializes in all passport and visa photography for immigration and travel documents.
High quality pictures!
Passport Photo Place prints pictures that look great and of a professional studio quality.
New legal photo document technology
All photographs are printed using the latest digital photo printing technology that allows us to consistently provide the quality that fully complies with the official Consulate General of Canada requirements.
Locally based visa photo studio service
All photographs for printed and electronic versions of the Canadian temporary visa are taken and printed at our studio in Orlando, FL
Related photo services
Our photo studio services for Canadian government are
For same-day Canadian visa pictures appointments email or call our Orlando, FL Orange County photo studio at Currently CLOSED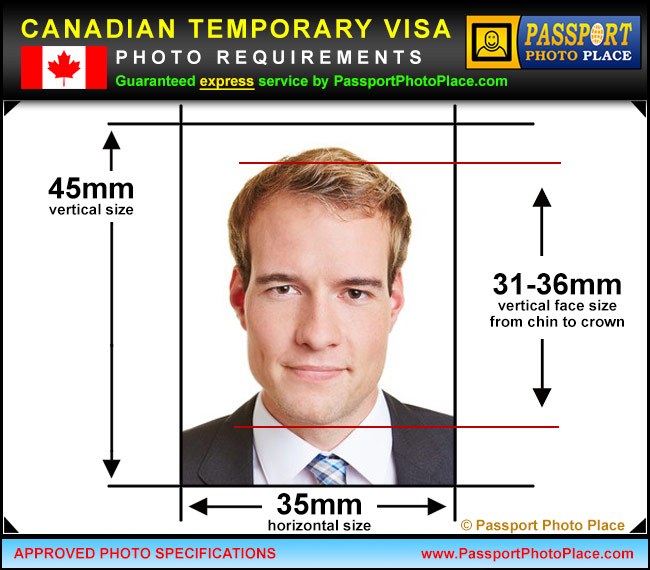 2023 Canadian Visa Pictures Requirements
Visa photographs for Canada are required to follow updated 2023 Canadian temporary visa photo specifications as provided below
Visa photo requirements & background
Photos must be taken within the last 6 month of the date of application submission
Canadian Consulates and embassies strongly advise to use only professional legal photo studios for all visa and passport pictures
The photographs must be correctly exposed to represent the actual skin tone appearance. Any variations from the natural skin tones is not acceptable
The size of the printed pictures must be 35 mm X 45 mm (1 3/8″ X 1 3/4″)
The size of the digital pictures for uploading must be 420px by 540px at 24bit with the image file size between 60kb and 240kb
The pictures must show front view and full face of the applicant
The background can be plain white, light gray or light-colored
Applicant appearance
The face size from chin to crown must be between 31 mm (1 1/4″) and 36 mm (1 7/16″), which will depend on the complexion and hairstyle of the person.
The facial expression must be natural. Frowning or smiling is not permitted
The forehead and ears must be clearly visible and not obscured by hair
No large earrings or piercings are acceptable
If a head wear must be worn, it would only be acceptable for religious reasons. Care should be taken to ensure that no part of the face is obscured. A hairpiece and other cosmetic accessories are acceptable is they do not disguise a person's natural appearance
Non-tinted prescription glasses are acceptable to appear in the picture as long as the eyes are clearly visible and the frames are not thick.
Visa picture printing & processing requirements
Canadian temporary visa pictures are to be printed using a professional non-inkjet based full color printer that is capable of producing pictures at 300ppi and above.
The photographs must be printed on a high quality archival quality photographic paper
The pictures must be in full color
The photo paper can be be either matte or slightly glossy
Photo retouching is not allowed
IMPORTANT VISA PHOTO APPOINTMENT NOTES
Please wear a solid-colored top/shirt. White or slightly off-white tops are not recommended since the background for Canadian visa photographs is light gray and there must be a good contrast between clothing and the background.
Passport Photo Place accesibility for Canadian visa photo service
Our Orlando, FL Orange County photo studio is accessible via major routes and is in relatively close proximity from the following cities: Aloma, Altamonte Springs FL, Apopka FL, Apopka, Azalea Park, Belle Isle, Bithlo, Buena Ventura Lakes, Cambell, Casselberry, Casselbery, Celebration Florida, Celebration, Christmas FL, Christmas, Chuluota, Clermont, Cloud FL, Cocoa Beach, Cocoa FL, Cocoa, Conway, Davenport, Doctor Phillips, Eatonville, Edgewood, Fairview Shores, Fairvilla, Fern Park, Forest City, Goldenrod, Gotha, Hiawassee, Holden Heights FL, Hunters Creek, Kissimmee, Lake Buena Vista, Lake Butler, Lakeland, Lockhard, Lockhart, Longwood FL, Maitland, Meadow Woods, Merritt Island and Cocoa Beach, Mims, Narcoossee, Oak Ridge FL, Oakland, Ocoee, Orlando FL, Orlando Florida, Orlando International Airport, Orlando, Orlo vista, Orlovista, Oviedo Florida, Oviedo, Paradise Heights FL, Pine Castle, Pine Hills, Port Saint John, Rosemont FL, Sanford, Sky Lake, South Apopka, St. Cloud, Tildenville, Titusville FL, Titusville, Union Park, University Park FL, Windermere FL, Windermere, Winter Garden FL, Winter Park and Winter Springs.
For Canadian visa picture service email or call our Orlando, FL Orange County photo studio at Currently CLOSED