Florida BAR Photo Service (Florida Board of Bar Examiners)
Florida Board of Bar Examiners express printing and digital file photo service
OPERATIONAL NOTICE:
At this time Passport Photo Place is CLOSED until further notice. We do not currently accept appointments.

2023 Florida Board of Bar Examiners Pictures Service - Orlando, FL
Passport Photo Place provides photo services for Florida Board of Bar Examiners Applicants. To schedule an appointment for Florida BAR photographs email or call our Orlando, FL Orange County photo studio at Currently CLOSED
We provide both photo formats – printed and digital files (for upload). These photographs must be submitted along with an application to Florida Board of Bar Examiners. The administrative agency of the Supreme Court of Florida created specific photo guidelines that must be carefully followed in order to be eligible for admission process.
Passport Photo Place specializes in legal photography for documents and cases and provides a same-day photo service that is 100% compliant with the specifications of Florida Board of Bar Examiners admission documentation.
Orlando, FL photo studio services for Florida BAR feature the following:
Guaranteed Florida BAR picture service.
Florida BAR pictures are taken, printed and provided as a digital file following the strict 2023 administrative agency of the Supreme Court of Florida regulations and are 100% compliant with issued requirements. Any photos that do not comply to the guidelines may potentially result in FBAR late fees being assessed
Same day service
Photographs taken and delivered to customers in printed and digital forms within 15 minutes at the time of the photo session. Appointments for Florida BAR photographs are taken

Mon thru Fri CLOSED until further notice
Professional photography service
All photography services are provided by a professional on-site photographer that specializes in all types of legal document photography
Professional looking pictures!
Passport Photo Place produces professional looking photographs that naturally and precisely represent the individuals applying for Florida BAR admission
New legal photo document technology
Our legal photo studio employs the most recent photo acquisition and processing technology to consistently reproduce high quality and professional photographs that fully comply with the legal document photo requirements
Local photo studio!
All photo services are rendered on-premises in Orlando, FL and are instantly available for customer pick up
Related US document photo services
Our photo studio services for United States government are
DS-160 Online electronic Non-immigrant Visa application pictures
Other US immigration printed and electronic pictures
For Florida BAR photograph appointments email or call our Orlando, FL Orange County photo studio at Currently CLOSED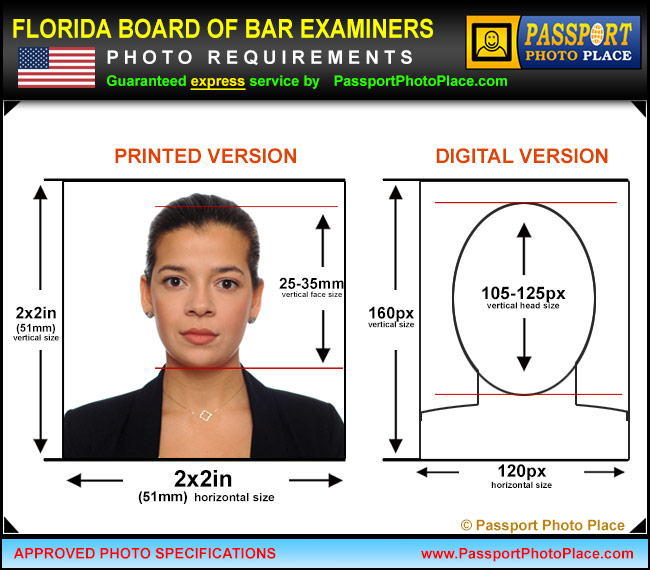 2023 Florida BAR Photograph Guidelines
Florida Board of Bar Examiners requires applicants to provide photographs that follow the guidelines as provided below:
Photo & background requirements
Photos must be recent and show the current individual's appearance
FBAR application requires 2 separate picture formats submitted for the following
1. For filing of General Bar Examination for the first time, an applicant must submit a 2x2in (51x51mm) with white background and standard USA photo bio-metric measurements
2. For bar examination photo identification badge, an applicant must upload a digital version of the photograph taken in front of an off-white or light-colored background with final digital JPEG picture file is of at least 120x160px and file size less than 100kb. The digital picture size must be in the format "firstname.lastname.jpg" where "lastname" must match the "Last" form field of Certificate of Admission field.
Applicant appearance
The eyes must be open and mouth closed
The hair must not block any part of the face
Only non-tinted prescription glasses are allowed as long as the frame is thin and eyes are clearly visible on the photograph without glass reflections
Head covers should not be worn unless used for religious purposes
Any hair or electronic accessories must be removed
Uniforms, company logos, watermarks and name tags must not be present in the pictures
Photo printing & processing specifications
Florida Board of Bar Examiners must be printed on a professional printer (300dpi and higher). Inkjet or home laser printers are not acceptable
Only full color photos are accepted
Retouching or editing of photographs is not acceptable
Printed version of photographs must be scratch and marks free
Reproduction from existing printed photographs is not allowed
Digital photo files can be higher than 120x160px resolution as long as the filesize is under 100kb and the digital files are not over-compressed that produces JPEG compression artifacts
IMPORTANT FLORIDA BAR PHOTO APPOINTMENT NOTES
Please wear a solid-colored top/shirt. White or slightly off-white tops are not recommended since the background for FBAR application photos is plain white or off-white and there must be a clear contrast between subject and the background.
Passport Photo Place accesibility for Indian passport photo service
Our Orlando, FL Orange County legal photo studio is accessible via major routes and is in relatively close proximity from the following: Aloma, Altamonte Springs FL, Apopka FL, Apopka, Azalea Park, Belle Isle, Bithlo, Buena Ventura Lakes, Cambell, Casselberry, Casselbery, Celebration Florida, Celebration, Christmas FL, Christmas, Chuluota, Clermont, Cloud FL, Cocoa Beach, Cocoa FL, Cocoa, Conway, Davenport, Doctor Phillips, Eatonville, Edgewood, Fairview Shores, Fairvilla, Fern Park, Forest City, Goldenrod, Gotha, Hiawassee, Holden Heights FL, Hunters Creek, Kissimmee, Lake Buena Vista, Lake Butler, Lakeland, Lockhard, Lockhart, Longwood FL, Maitland, Meadow Woods, Merritt Island and Cocoa Beach, Mims, Narcoossee, Oak Ridge FL, Oakland, Ocoee, Orlando FL, Orlando Florida, Orlando International Airport, Orlando, Orlo vista, Orlovista, Oviedo Florida, Oviedo, Paradise Heights FL, Pine Castle, Pine Hills, Port Saint John, Rosemont FL, Sanford, Sky Lake, South Apopka, St. Cloud, Tildenville, Titusville FL, Titusville, Union Park, University Park FL, Windermere FL, Windermere, Winter Garden FL, Winter Park and Winter Springs.
To schedule an appointment for Florida BAR pictures email or call our Orlando, FL Orange County photo studio at Currently CLOSED